Product Carousel
A fully customizable showcase of your products in a scrollable carousel that can be easily added to your website. A great way to highlight your products based on "promotion" levels you selected on LinkGreen Connect.
The following promotion levels can be passed to your product carousel:
Featured Products
New Products
Top Sellers
On Sale
Looking Good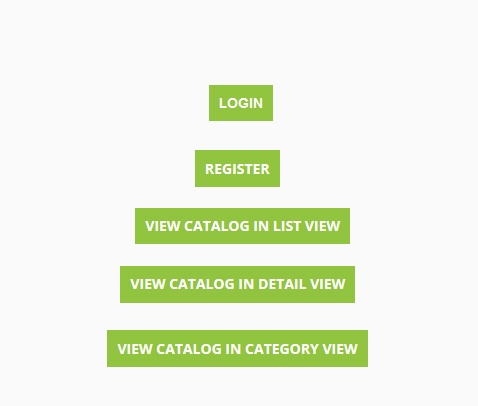 Integrated Buttons / Links
Now your customers can login, register and access your LinkGreen catalogs directly from your website. Buttons can be customized to match your website color scheme and you can determine the default view for your catalog. Available button types:
Login
Register
Catalog
Category view
Detail view
List view
Summary view
Content Block
Give your customers the tools to gain access to your products from their mobile device. Add the "Download the App" block to your website so that your customers can connect with your products anytime, anywhere.
Currently the app download block is available. LinkGreen will be adding more content blocks as we develop new features for suppliers to market forto their customers.