The

Best

Pet Supply Industry Integration Solution
Order Management Workflow Automation
ERP / Accounting System Integrations
EDI Connectivity to Trading Partners
eCommerce Integrations
Logistics Integrations
PDF Order Processing
Credit Note Management






The pet supply industry is large and booming! Most businesses are experiencing growth, and with that comes more orders...being sent and being received.
A large portion of these orders are managed manually coming in by email, phone, PDF PO's, excel sheets, and EDI dashboards. Until now, there hasn't been a way to send or receive all of these different types of orders digitally...or even have access to digital product info.
OrderEase integration and workflow automation solutions connect all of the supply chain dots together creating a digitally connected industry.
INVENTORY VISIBILITY
With an integrated solution, you can display inventory levels to customers and your online sales channels.
ORDER ACCURACY
Eliminating manual order processing reduces data entry errors and increased order accuracy.
SALES GROWTH
Expand to new integrated sales channels without the need to increase your work force to manage orders.
REDUCED LABOR
Hours per week of labor costs allocated to order management can be redistributed!
---
We are a single solution to aggregate and automate your wholesale orders.
With OrderEase, you have the power to enhance your QuickBooks Online and On Premise system without the need to replace QuickBooks to get the order management functionality you need.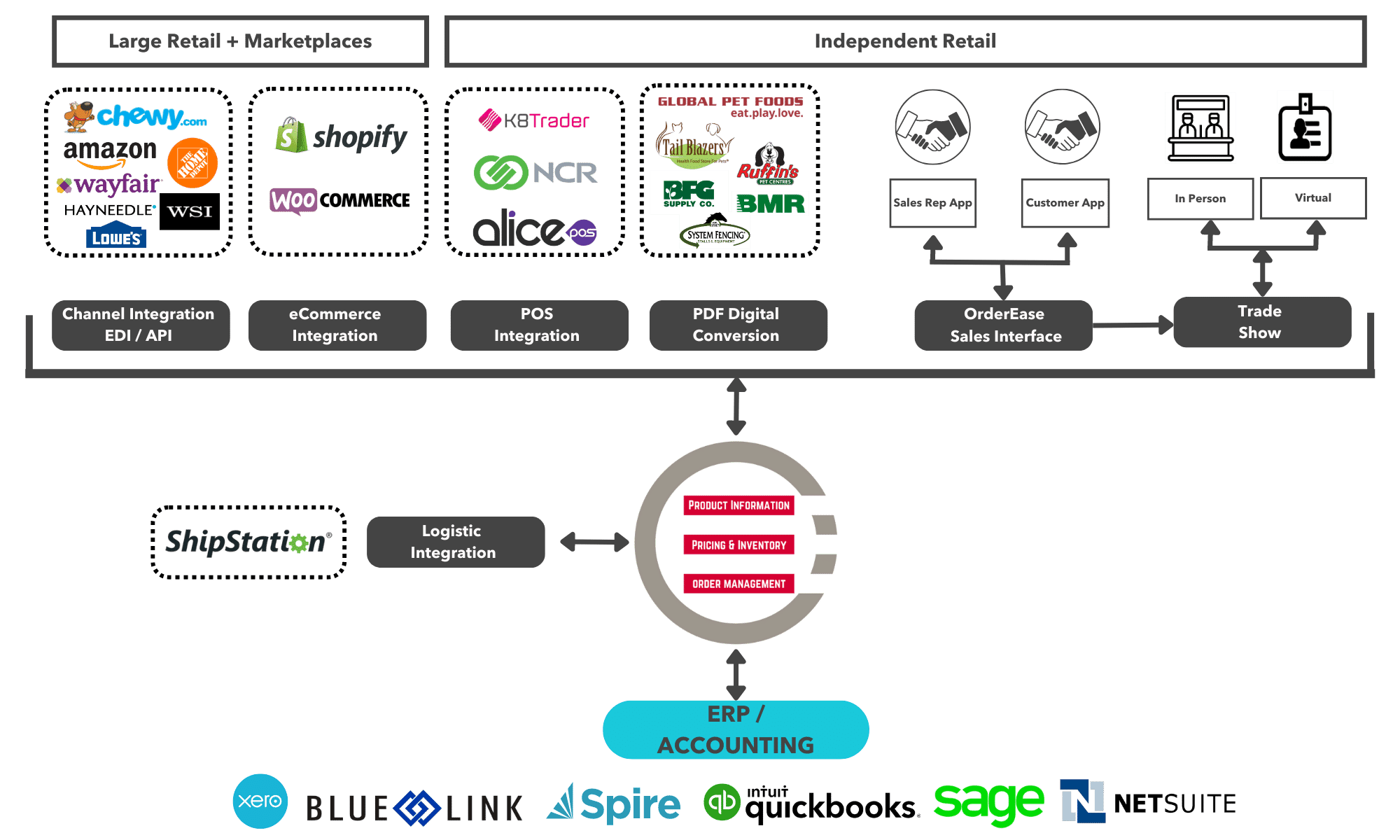 Key Pet Industry Features
Whether you choose to leverage OrderEase as an order aggregator solution from your digital sales channels or as a full order management solution for your sales reps and wholesale customers, OrderEase is fully scaleable to your business needs.
SALES REP APP
Unlimited users allows you to grow your team without the added cost.
INVENTORY
Manage your inventory within OrderEase by catalog or globally.
CUSTOMER PRICING
Build custom price lists per customer or groups of customers.
MARKETING
Promote products and specials directly from OrderEase to your customers.
EDI COMPLIANCE
Work with any trading partner via EDI. OrderEase is your EDI connection team.
DROP SHIPPING
Easily manage and offer drop shipping to your wholesale buyers.
eCOMMERCE
Sell direct to consumer using an integrated web store.
LOGISTICS
Multi-integration environment connects sales and logistics into QuickBooks.
CREDIT NOTES
Digitally manage credit notes and processing. with extensive customization.
PDF PROCESSING
Digitally convert PDF orders straight into your ERP / Accounting system.
KNOWLEDGE CENTER
Repository for training and product knowledge materials.
MULTI VARIANT
Quick order using a matrix module for multiple variations of a product.
Have Questions On How OrderEase Will Benefit Your Busines?
Not a problem! Here are some of the common questions we get asked. or people have on their minds even before they book a discovery call with us:
I already have an ERP system, I don't want to change
We get it! It's disruptive to a business when you need to remove existing software. This is why we integrate with many existing software solutions. We act as the data hub in the background making your existing solution go from a 6 to a 10!
Do you integrate with any ERP system?
We have some existing ERP integrations, which you will be able to find on our integrations page. If your ERP system isn't listed, we are more than happy to speak with you to learn more and if your ERP system is compatible, we will work with the ERP provider to develop an integration partnership.
There are other ways to pass data between an ERP system and OrderEase without a full integration, such as (S)FTP, import / export etc. Our team can work with you to determine the best solution for your business.
I have A LOT of products...can you handle this?
Absolutely! Your pricing plan is not related to the number of products you have for sale. Whether you have a hundred or hundreds of thousands of products, we can handle the data.
I have many customers with different price lists, can you handle this?
Perfect, we're great at that! The software architecture is built to accommodate as many "groups" of similar characteristics as you need. Price lists and customers get assigned to groups, and groups get assigned to product catalogs. But don't worry, your onboarding project manager will help you through all of this set up and training.
I'm a distributor, can you cross-reference our SKU's to supplier SKU's?
For sure! We can even do one better than that. Not only can you cross-reference your distributor SKU's to your supplier SKU's to make for easy supplier ordering, but you can also have retailer SKU's cross-reference with your SKU's. We work up and down the supply chain and have build in this ability for cross-referencing at all points to create seamless product ordering.
I'm thinking about just using something like BigCommerce or Shopify for my B2B sales...why would I use OrderEase?
We often get that question / statement and the answer is complex but easy.
IF you only want a way for your buyers to only access your business to buy from, a single utility access such as BigCommerce or Shopify will be fine. BUT if you are looking to provide the most value to your buyers, using OrderEase allow them to access your products as well as other supplier products within a single location to login and order.
IF you have sales reps, if you take orders via EDI, if you receive orders via excel sheets or PDF's, if you want to connect to additional distribution channels / marketplaces such as Amazon, WalMart AND you want everything to flow into your ERP system, THEN OrderEase is the only solution that can give you everything.
I have products with multiple options, how do you do this?
We manage this with a multi-variant matrix. It's similar to having a dog collars to sell and both the size and color need to be selected.
The matrix view allows the buyer to see all options available and add their quantity of each option in a single view. If there is a different price for any of the option variations, that can also be accommodated and shown.
If you are a wholesale buyer, or sell to direct to consumers, these are common questions we answer:
I'm a distributor, can I use OrderEase to buy from my suppliers?
Definitely! For any of your suppliers who are using OrderEase, you will be able to access the products and pricing they have set for you. When you place orders, you will be able to digitally pass that data through into your systems if you are integrated.
Each supplier who is on OrderEase reduces the amount of manual data entry your team needs to do.
What's FREE for me to do in OrderEase?
For each supplier you have been approved to purchase from (your suppliers make these approvals), you will have access to the products and pricing assigned to your account. You are able to place as many orders as you want with the free account.
You can scan barcodes in your store to build orders using the OrderEase app, you can use the desktop version and build orders for each supplier, you can save and send later, and more.
Do you integrate with any POS system?
We have some existing POS system integrations, which you will be able to find on our integrations page. If your POS isn't listed, we are more than happy to speak with you to learn more and if your POS system is compatible, we will work with the POS provider to develop an integration partnership.
Do you integrate with any eCommerce platform?
We have some existing eCommerce integrations, which you will be able to find on our integrations page. If your eCommerce platform isn't listed, we are more than happy to speak with you to learn more and if your eCommerce platform is compatible, we will work with the eCommerce platform provider to develop an integration partnership.
I am a wholesale buyer but only sell on a marketplace, can I use OrderEase to dropship supplier products?
Yes! We have integrations with some marketplaces which will make this process a seamless experience for you. First, you must ensure your supplier offers dropshipping. Once that is established, your supplier will assign a dropship catalog with your wholesale pricing assigned. You can select products you want to add to the marketplace and set your retail price for those products. Once an order is placed in the marketplace, it will send directly to your supplier for fulfillment.
To get started with a marketplace integration, you will need to talk with one of our sales executives.
It's Easy to Get Started!
For many businesses we can import your data and begin submitting test orders within minutes.
Call us today and we can walk through the setup together.