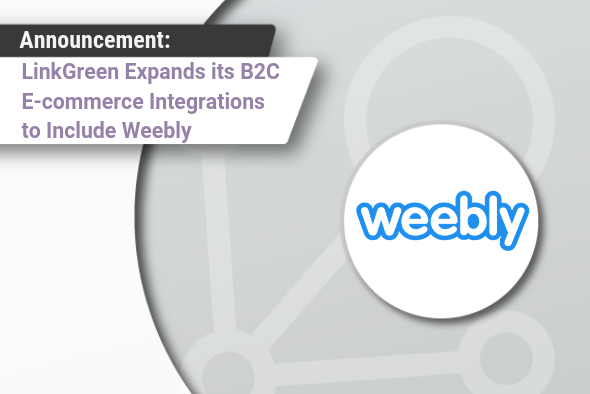 Barrie, Ontario, April 30, 2019 LinkGreen expands to include API integration with Weebly to offer retailers an easy way to build and maintain their own B2C web store. This integration is the third B2C e-commerce integration LinkGreen has created to extend B2B e-commerce to retail web stores.

LinkGreens B2C e-commerce integrations connect wholesale product data directly to a retailers Weebly web store. This integration offers the retailer the ability to leverage all their wholesale vendors existing product data (images, descriptions, attributes) within LinkGreen to populate their B2C web store with one click. LinkGreen's B2C e-commerce integration also provides retailers with the opportunity to create an endless aisle experience for their customers. Utilizing vendor data on LinkGreen and vendor fulfillment and logistics, retailers can offer their customers a more extensive range of products without stocking them in their store.

"We have created this particular integration to support a Home Hardware dealer in realizing their B2C e-commerce strategy. This integration and use case offers other Home Hardware dealers and LBM retailers an example of how an Omni-channeled approach to retail is becoming integral to remaining competitive in today's climate." Commented Warren Patterson CEO of LinkGreen.

The development and deployment of all three of LinkGreen's e-commerce integrations bring great opportunities to retailers already utilizing LinkGreen to order wholesale products online by harnessing vendor product data.

For further information, please contact:

Warren Patterson, CEO

Telephone: 1(888) 476-6527

Email: warren.patterson@linkgreen.ca

About Weebly

Founded in 2007, Weebly (www.weebly.com) is a San Francisco-based, global platform that lets people easily create a unique website, blog or online store. Millions around the world use Weebly to start their own business, sell online, showcase their achievements and communicate with visitors in a thoughtful and meaningful way. Designed with the first-time business owner in mind, Weebly gives everyone the freedom to build a high-quality site that works brilliantly across any device. Weebly offers a range of pricing options, including free and premium consumer plans, as well as enterprise offerings and is consistently the highest-rated website building mobile app in the App Store and Google Play. Weebly's investors include Sequoia Capital, Tencent Holdings, Baseline Ventures, Ron Conway and Y Combinator.

About LinkGreen

LinkGreen (www.linkgreen.ca) is a technology solution that connects industry supply chains to make wholesale buying and selling fast and easy. The company has created a fully connected and integrated supply chain that provides innovative operational efficiencies, modern sales, and marketing opportunities, and familiar digital ordering experience for suppliers, distributors, and retailers. Now in its fourth year of operation, LinkGreen serves multiple industries, including Lumber & Building Materials, Greenhouse, Nursery & Floriculture, Lawn & Garden, Cannabis, and Home Decor. With over $1 billion in vendor supply available, there are more than 5,000 registered wholesale buyers who now enjoy an electronic supply chain.