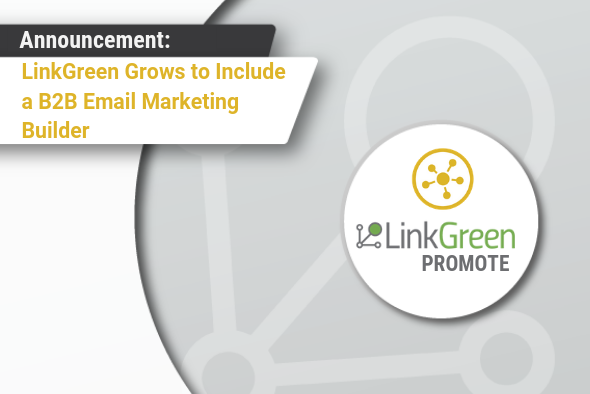 Barrie, Ontario, April 16th, 2019 LinkGreen announces the release of their new B2B email marketing builder. The email marketing builder will bring brands, distributors and buying groups greater connectivity between their marketing efforts and their sales channels through a LinkGreen's interconnected supply chain solution.
LinkGreen has created an email marketing builder that has been specifically developed to meet the needs of B2B businesses. This service offers customers access to a range of B2B specific email templates from inventory updates and catalog announcements to newsletters and special pricing communications. LinkGreen's email builder makes customizing email templates simple, with easy access to a media library and online product and catalog links. LinkGreen ensures every email makes an impact.
Through LinkGreens email marketing builder, companies will be able to targeted emails to specific customer segments easily. This allows emails to be personalized for each wholesale customer, offering each customer an exceptional experience.
"In speaking with LinkGreen's customer base, it was clear that there is a need for a B2B specific email marketing builder that can connect to a companies order management process. Our team stepped up to that challenge to deliver our customer base an email marketing service that rivals that of MailChimp and Constant Contact but fits within LinkGreen's existing interconnected supply chain solution." Comments Warren Patterson CEO of LinkGreen
LinkGreen has created this email marketing builder to ensure wholesale customers have a barrier-free experience with the convenience of browsing an online catalog with their assigned pricing right from links embedded in marketing emails they receive. This ensures that marketing emails deliver sales results.This addition to LinkGreen' existing suite of B2B specific business solutions delivers tremendous value to businesses, furthering their ability to update their digital marketing strategy. LinkGreen continues in invest is providing its customers with an interconnected supply chain solution.
About LinkGreen

LinkGreen (www.linkgreen.ca) is a technology solution that connects industry supply chains to make wholesale buying and selling fast and easy. The company has created a fully connected and integrated supply chain that provides innovative operational efficiencies, modern sales, and marketing opportunities, and familiar digital ordering experience for suppliers, distributors, and retailers. Now in its fourth year of operation, LinkGreen serves multiple industries, including Lumber & Building Materials, Greenhouse, Nursery & Floriculture, Lawn & Garden, Cannabis, and Home Decor. With over $1 billion in vendor supply available, there are more than 5,000 registered wholesale buyers who now enjoy an electronic supply chain.