2021 was a BIG year for OrderEase technology development. There were significant advancements and technology releases in both the Trade Show platform as you will read below, as well as within the B2B order management software solution which you can review in a separate post here.
In this feature release, year in review article, you will be able to review key release highlights, which are the most notable and impactful to your business. Our all-in-one trade show platform is built on our core framework of the everyday order management technology, creating an end-to-end buying solution. The platform is ideal for mid-market to enterprise-level buying groups and distributors, who are looking to capture more sales or bookings for in-person, virtual or hybrid trade shows. The OrderEase trade show platform allows you to maximize ROI, engage with more customers, and increase show sales volumes and order values.
OrderEase had a successful 2021 with 97% of show operators re-booking or adding additional shows to their marketing strategies. Our solution is transforming the way you think about trade show ordering and reshaping the way you do business at trade shows.
Key Trade Show Platform Feature Releases:
Don't forget to check out 2022: A Look Into What's to Come
TRADE SHOW Technology Enhancements
User Experience
Order Anything. Anywhere. Anytime.
ALL Users: Hybrid / In-person shows use digital ordering functionality to capture more sales.
The original release for virtual trade shows was designed for desktop and laptop only. We have improved the user experience for tablets and phones which now can be used with the OrderEase app to access the trade show. Ordering via the app allows participants at an in-person show the ability to place orders digitally, eliminating paper ordering. Get global coverage and order access 24/7. Click, tap or scan barcodes for quick order building. Download the free OrderEase App for your mobile device.
Give sponsors top billing and stay top of mind throughout the show.
EXHIBITOR and OPERATOR Users: Sponsorships improve brand recognition.
Keep your attendee audience engaged throughout the entire show. Operators have many sponsorship spots they are able to sell and promote to allow brands to target achieving more visibility throughout the trade show platform. Attention-grabbing banner ads and logos can be prominently displayed on registration and landing pages, Lounges and breakout rooms can have a primary sponsor and a collection of secondary sponsors or a brand can purchase a lounge as their own "public virtual meeting/networking space".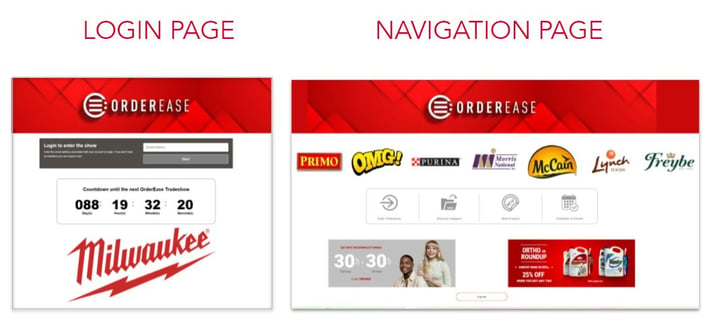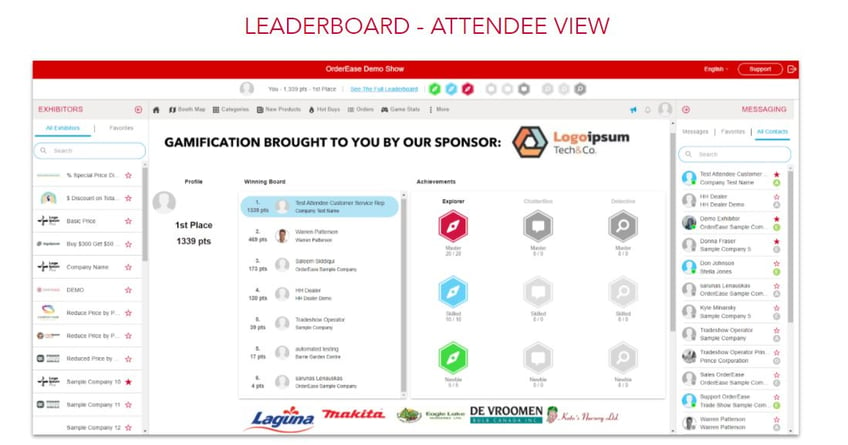 Showcase featured products. Highlight new product launches.
EXHIBITOR Users: Featured product gallery and new products gallery
Spotlight your product with secondary locations to help promote and get enhanced coverage. Give your latest and greatest innovations the attention they deserve with the New Product Gallery or Featured Product Gallery. OrderEase spotlights your products in a stunning gallery, and ensures buyers, retailers and key decision makers don't miss your products. Get full exposure and increased traffic to your exhibitor booth via direct links.
Hybrid and virtual shows can be global. Don't miss out because of time zone conversion.
ALL Users: Trade show availability is displayed in the users time zone.
No matter where in the world you are, OrderEase trade show availability is displayed as per your locale. Need to book a meeting? No problem, as our meeting scheduler adjusts for time zone variations ensuring neither you or your meeting participants ever miss connecting together.
Quick. Convenient. Worry-Free Set-Up.
OPERATOR and EXHIBITOR Users: Self-serve onboarding.
Setting up for a trade show can be complex. OrderEase streamlines the set-up process for virtual, hybrid and in-person shows. We provide an easy-to-follow guide with steps for virtual booth set-up including your marketing booth and materials, product information upload, pricing and specials input, and user access privileges. We will even help with online registration, welcome emails, follow up surveys and more! But don't worry, your OrderEase project manager and our data specialists are there with you every step of the way to ensure your show is properly configured, catalogs,pricing and deals are set up and everything looks great!
Online exhibitor self-serve and
dedicated support team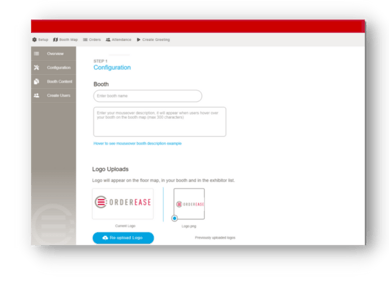 Booth control flexibility. Power to control it all. Or just one.
OPERATOR Users: Ability to open/close individual booths.
In the initial launch of the OrderEase trade show platform, operators had the ability to open and close all the booths with one click. We have further refined this functionality to provide operators the ability to close or open individual booths as the need arises without disrupting the function of the other booths in the show.
Easily view which purchases were made in the previous show.
Order History Mouse Rollover (EXHIBITOR and ATTENDEE Users).
Order history is a convenient way for a buyer, sales rep or sales agent to keep track of show-over-show ordering. Roll your mouse over the words "Order History" and see past order quantities, prices paid and date ordered. Better understand the order frequency and amount of purchases. With the order history it becomes easy to track customers' behavior, and the more you work with customers, the easier it will be to notice what routines they follow.
OrderEase can handle the most complex B2B discounts imaginable.
EXHIBITOR and OPERATOR Users: More promotional discounts available.
The OrderEase platform has tremendous flexibility when it comes to product detail level and promotional deals. Choose from over 20 standard B2B promotions types including BOGO, order level discounts, product group discounts and more. From simple to complex pricing and promotion implementations, your OrderEase project manager will guide you through the possibilities and our data specialists will get everything set up for you.
Down-to-the-minute promotional timing.
EXHIBITOR and OPERATOR Users: Pre-set time-sensitive promotions
A promotional pricing strategy is one of the best ways to generate quick demand for products. In most cases, a promotion is confined to a tight time frame, creating a sense of urgency. OrderEase has elevated the functionality of its promotional pricing so the time frame not only includes days, but can be listed down to the minutes. This is especially useful for Exhibitors or Operators who can now pre-set door crasher style sales promotions with automation vs manually managing these during the show.
Engagement
Create meaningful conversations. Close deals with new meeting features
ALL Users: Chat/Video functionality; new Meeting Scheduler.
OrderEase chat and video functionality has bridged distance through dialogue and greatly evolved since the initial launch. Enjoy 1:1 or group chat/video with up to 8 people. Our built-in meeting scheduler allows sales reps and attendees to block times as available or unavailable, schedule chat/video meetings, and easily add the events to their office calendar so reminders are integrated with their workday schedule. Don't worry…if you happen to be drawn offline, our "out of booth" text notifications let sales reps know a customer is waiting to speak to them. Your chat history is available to download so after the show, you can have the full chat history available for follow up conversations.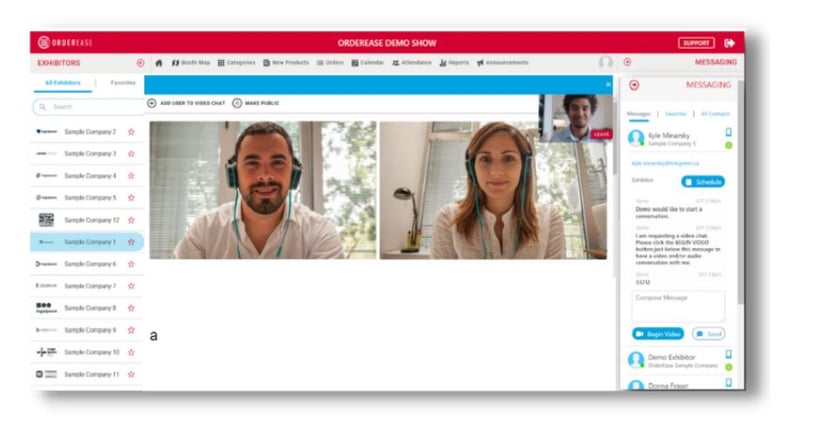 Become the game master. Shift behaviors. Monitor sales results.
OPERATOR Users: Gamification drivers help improve engagement & achieve specific targets.
Gamification entices attendees to interact more with your exhibitors and reward their participation accordingly. But gamification offers more than just entertainment - it can help modify behaviors to increase traffic and drive sales including:
Numerous actions to capture points.

Awards, badges and toasts to notify attendees on progress.

Leaderboard and Ticker to compare against the competition.



Reporting
Metrics are more than just numbers. They are people with behaviors.
EXHIBITOR and OPERATOR Users: Data can provide deeper insights to your business.
Every show operator and exhibitor needs to understand how attendees engage within the event - from start to finish. This provides valuable insights to improve the overall buying experience and even uncover potential new business opportunities for all participants involved.
OrderEase provides a full show overview with real-time sales visibility. Track, measure, and compare sales metrics that impact sponsors, exhibitors, management, and more. Events are part of a larger marketing strategy and are a single touchpoint in the overall buyer journey.
Understand where prospects and customers are in your sales funnel to understand their pain points. Integrating event data into your existing business systems ensures the latest and most correct info for a complete real-time picture of the buyer journey.
A clearer buyer journey means better planning, execution and ultimately more sales. OrderEase also provides you with all the raw sales, hyper personalization and gamification data so you can dive deeper and share information with exhibitors.
Types of stats and reporting available:
Sales
Order summary

Order details

Order value

Order count

Average order size

Raw order data by reps, categories, SKUs




Engagement
Registered vs attended

Chat history

Booth visits (total, by date)

Meeting History

Raw engagement data

# of scheduled and unscheduled meetings

Most initiated calls

Most sent messages

Total # of messages, video meetings

Attendance by hour

Average # of unique booth visits

% of booth visited by all attendees

% attendance of virtual vs in-person



Gamification snapshots
Leaderboard

Ticker

Badges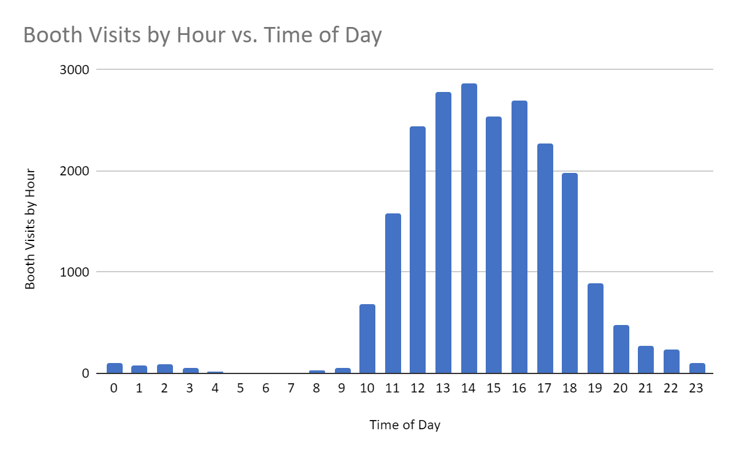 2022: A Look Into What's to Come
OrderEase is grateful to all its customers and the successes we have collectively enjoyed in 2021. It was another period that saw businesses deal with a constant state of change, and together, OrderEase was able to help its partners navigate forward. With major engagement, user experience and reporting updates to our order management platform and all-in-one trade show platform, the OrderEase innovations continued to excel.
We look forward to continuing this momentum in 2022. Our focus will continue to excel our trade show platform technology along with driving into partnerships and integrations.
2022 upcoming features for Q1 / Q2:
Take a look at what is in our development pipeline.
Multiple lounges for casual or more private meetings. OrderEase trade shows can now have one or multiple specialized lounge rooms. These lounges allow operators, exhibitors and attendees to have an impromptu meeting space. With restrictions between exhibitor booths that keep exhibitor reps from crossing into another booth, this is a perfect area to network and meet up with other participants. Additionally, these rooms can be designated as private lounges for more focused meetings (sales pitch, product launch training, etc).

Event registration system with automated back-end approval workflow. Ensuring only qualified and approved attendees at B2B trade show events can be a time consuming and complicated process with threads of emails, forms and spreadsheets. Now, easily create and host top-quality events with an unlimited number of secured registrations. Advanced approval workflow features allow for curated attendance. Get forms and approval workflows up and running in minutes and see real-time tracking for all your approvals.
We pride ourselves in being progressive and innovative, which is a direct result of our customers and their dedication to working together with us. Stay tuned for all of the new and exciting features we will be releasing throughout 2022!