ONLINE OR OFFLINE
B2B Sales Rep App
On the road, at a trade show, creating quotes, barcode scanning, reviewing orders on the fly...we've got this!
More Productive. Less Manual.
Being a wholesale sales rep doesn't need to be this hard...there's a mobile app for that!
Our cloud-based software solution creates a digitally accessible portal for you and your customers to access catalogs, pricing, orders, and inventory, via mobile or desktop, which can all be easily integrated with your existing internal systems.
ANY DEVICE
Web Portal or App
Apps are available for both Android and Apple. Take orders anywhere whether you are online or offline.
Use a bluetooth scanner to quickly build orders at a store or trade show.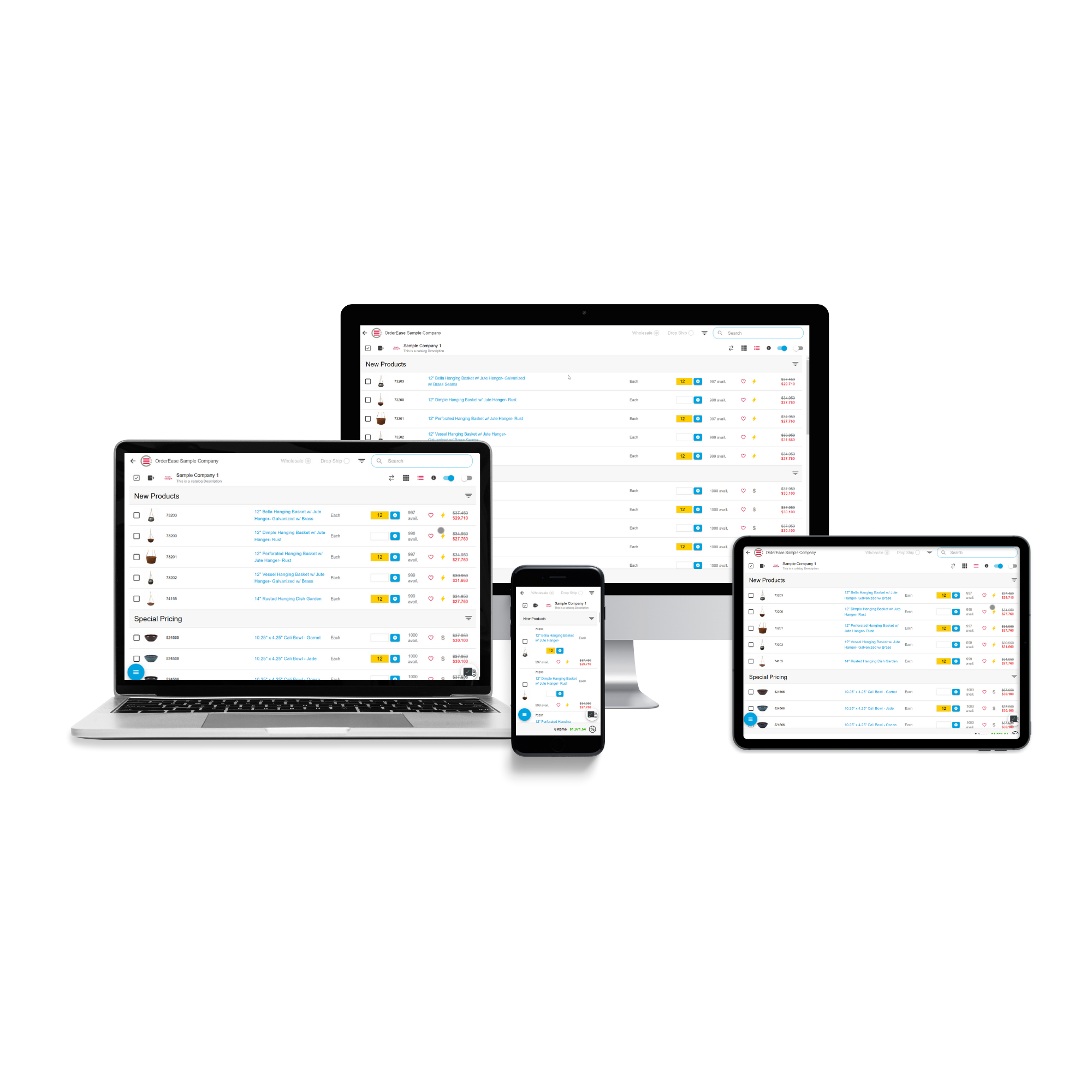 CUSTOMER SPECIFIC PRICING
Access any of your customers and see only the products and pricing applicable to their contract.
BUILD QUOTES
Easy quote generation to attract new customers and sales.
Next Gen Sales, Are You In?
The market is trending to DIGITAL, are you still working with paper? Taking orders by phone, fax, or email?
Get in front of the curve, be the leader, be RELEVANT.
Your VALUE as a sales rep is to become an advisor. Solidify relationships and prove you care about growing your customers business.
How? DATA!
The right data at the right place and the right time drives insights, predictability, and builds valve.
Spend less time order taking. Period.
What's Stopping You?
Technology That Replaces Guess Work With Less Work
Real Time Inventory
More accurate ordering leading to fewer back orders, returns and credits resulting in happier customers and better sales margins.
Reporting Dashboards
No more manual reporting. Real time data in the dashboards gives all of the insights needed to monitor sales and customer performance.
Easy To Use
Getting up and running is quick and painless. You'll wonder how you ever managed to do all of your ordering before you started with OrderEase.
See How It Works...Your Customers Will Thank You!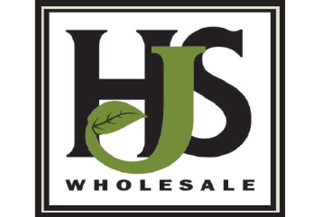 Within a year, HJS went from supplying Thunder Bay to Edmonton to supplying Nation-Wide as a result of using OrderEase.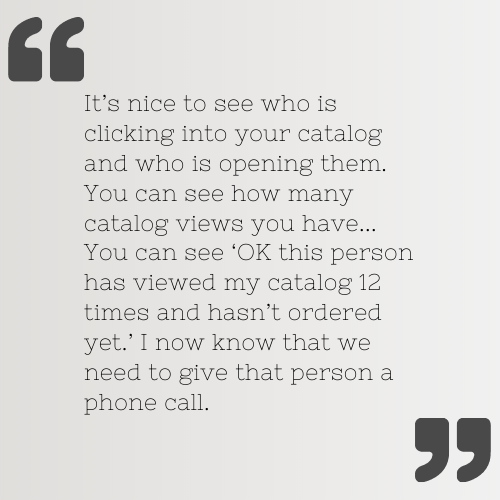 "The app is working fantastic. The finger scanner makes for faster scanning and frees up a hand to manipulate a product if necessary."
Mike Jones
Sales Rep, Century Drill & Tool
Supported by a Powerful Marketing Engine!
Promotional Emails
Need to make an announcement to your customers about a sale or power buy? Easily push it out through the OrderEase marketing engine connected within your account.
Customers can go directly into your catalog from the email and place orders.
Automated Order Notifications
Order confirmation notifications to your sales rep and customer.
Nudge emails to customers for abandoned cart after 24 hrs of abandonment.
Sales rep notification for abandoned cart after 48 hrs of abandonment.
Catalog announcement option to communicate pricing changes and product updates
...and more.
We're Ready To Exchange Data With Any Software
Built For Your Wholesale Business