Maximize Trade Show Sales
Trade show software to host a show or take orders at a show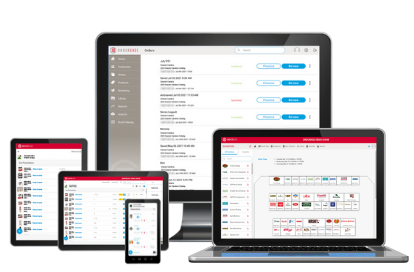 We're. Blown. Away.
I'm pleased to say the sales volume and overwhelmingly positive feedback from vendors and retailers far exceeded all our expectations.


Operator - Agricultural / Lawn and Garden Show
---
Buying shows needed
a game-changer.

Here you go.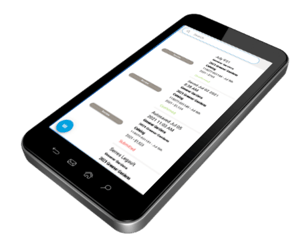 If you're looking for how to take orders at a trade show, OrderEase provides the digital trade show platform you are looking for.
There's a reason why successful mid-market or enterprise-level buying groups, distributors, retailers, and trade associations trust OrderEase.
OrderEase isn't just order management technology - it's a strategy for your business.
Improve sales operations to focus more on the most important part of your business - your customers. Transform the way you think about ordering. Reshape the way you do business.

Combine OrderEase order management technology with our all-in-one trade show platform and you have an end-to-end buying solution for in-person, virtual, and hybrid events. Maximize ROI, engage with more customers, and increase show sales volumes and order values.

OrderEase is Proven
Leading technology. Easy-to-use. 100% Event Re-Booking.
Reliability
Order-driven. Event-proven.
Always stay connected with an
enterprise-grade platform that has
successfully hosted buying shows
with thousands of people.
Robust architecture

Multi-level load fail-safes

Cloud-based for easy updates
Satisfaction
Keep it simple.
98% of users surveyed found the
platform easy to navigate and order.
Access to product info
Clear pricing and discounting
Chat with vendors
Results
Users become believers.
100% of operators have re-booked
their buying shows. Some even added
more shows to their event calendars.
Increased sales order

volume

More reach and engagement

Strong ROI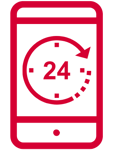 APP OR CLOUD-BASED PLATFORM
Order. Anywhere. Anytime.
OrderEase = Digital
Improve the ordering experience. Maximize audience reach.
OrderEase is the answer to the ever-changing needs of your
customer: providing time flexibility; addressing budget limitations, and
protection from travel uneasiness.

Global coverage.

24/7 order access.

Click, tap or scan.

Our Prebook program results increased by 50% and I am sure that ease, and access for the retailer was part of that success.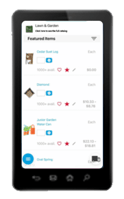 DID YOU KNOW

More than 60% of trade show participants will only attend future shows that include digital components like ordering.

*Based on post-show survey results with attendees and exhibitors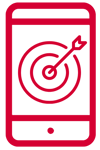 ORDER PLACEMENT
Accurate orders. Always.
OrderEase makes order accuracy easy.
Every order. All the time.
Say goodbye to printing, re-printing and paper shuffling.
OrderEase saves time, and reduces errors with digital ordering.
Capture order data, delivery details, and add notes.

Receive vendor and buyer confirmation emails.

Auto-save protects against dropped or missed orders.

Vendors can place orders on behalf of busy clients.

Extract system-ready orders for easy upload to your ERP.






Ease of use...
love that I can order directly and see the discounts and submit.

Attendee - Pet Show

DID YOU KNOW

Users overwhelming voted "order functionality" and "ease of use" the top attributes of OrderEase.

*Based on post-show survey results with attendees and exhibitors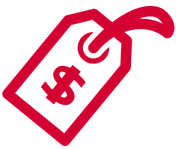 PRICING MANAGEMENT FUNCTIONALITY
Complex pricing made easy.
Order management expertise at its finest.
Complex pricing options that are flexible and easy to set-up.
Our cloud solution handles complex product catalogs, active
inventory, and sophisticated pricing for all your channels.
Need intricate discount structures, pricing tiers or product exclusivity?
OrderEase digital catalogs and inventory can limit product visibility
based on customer groupings and create customized show pricing.
Over 20 discount structures to choose from and customize.

Customer unique pricing / buyer groups and pricing level support.

Show specials and terms.

We had difficulties with our previous trade show technology vendor.
Our business is unique.
Pricing and discount structures are complex for our buying group.
OrderEase made it easy.
From full order placement to booking commitments, OrderEase had it covered.

Operator - Optical Show

DID YOU KNOW

OrderEase has online onboarding that is straightforward and easy to execute. This includes product info, images, product codes and pricing structures.
ORDER PROCESSING FEATURES

ORDER PROCESSING
Fast processing. Faster fulfillment.
Import or sync data directly to order desks.
Full visibility. Faster. For operational excellence.
OrderEase data can be imported or integrated directly to order desks
giving organizations full visibility sooner, allowing for improved
operational planning and execution.
Eliminates scanning and saving signed documents.

Expedites order fulfillment process.

Invoice orders sooner.

Show orders used to be a manual, laborious process and take weeks to enter after the show ended.

Operator - Agricultural/Lawn and Garden Show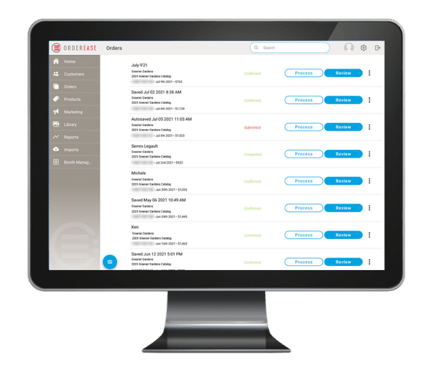 DID YOU KNOW

4 out of 5 users feel that OrderEase
helped meet or exceed business
expectations.
*Based on post-show survey results with attendees and exhibitors
ORDER MANAGEMENT FEATURES

ORDER MANAGEMENT
Empower users. Boost efficiency.
Shift power into the hands of vendors' reps
and attendees.
More time. More orders placed. With more vendors.
With the intuitive and easy-to-navigate mobile app or cloud-based
platform, users can take a self-serve approach for on-the-spot
ordering and order updates. Self-serve also means smarter customer
conversations and more focus on increasing order volume and order
value.
Self serve access to info and fast ordering

Instant access to review or update order details

Ability to add order notes, viewable to buyer or for internal use






I stopped at a lot more booths
than I normally would have. I had the time to explore as I see fit. I felt safe! I bought items from new Vendors and learned a lot about various companies.

Attendee - Optical Show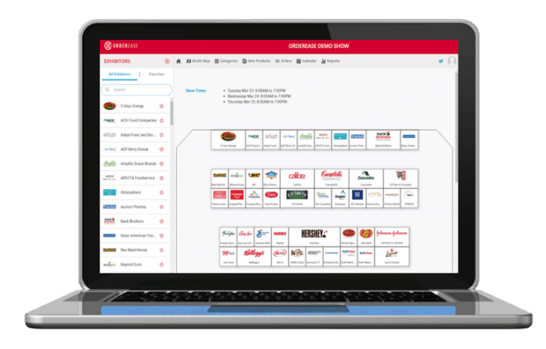 DID YOU KNOW

9 out of 10 users feel they experienced the full benefits of the OrderEase Platform.
*Based on post-show survey results with attendees and exhibitors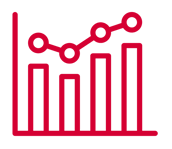 SALES ANALYTICS
Real-time sales visibility.
Easy-to-read use dashboard provides up-to date results.
Connecting the right people to the right data at the right time.
OrderEase provides a full show overview with real-time sales visibility.
Track, measure, and compare sales metrics that impact sponsors,
exhibitors, management, and more. Gain a full picture of the buyer
journey.
Monitor buyer behavior and track sales results.

Track overall and vendor order numbers and sales volumes.

Export raw order data for analysis by reps, categories and SKUs.

The OrderEase platform allowed us to track sales volume by category, by vendor, and by customer during the show in real time. With such a great experience, we're allowing vendor reps to use OrderEase for an additional 30 days to visit with retailers and secure additional business for the coming year.

Operator - Agricultural/Lawn and Garden Show
DID YOU KNOW

9 out of 10 users would recommend
OrderEase to a colleague.
*Based on post-show survey results with attendees and exhibitors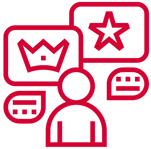 EVENT MANAGEMENT
All-in-one. Single platform.
Fully loaded with all the key features.
Run best-in-class buying trade shows.
OrderEase is your end-to-end event management solution fully
loaded with all the right features to achieve your buying show goals.
This includes: online registration, chat tools, gamification, sponsorship
opportunities, networking, ordering, as well as advanced sales and
show analytics. Scale to any size. Configure to any event type.
Easy-to-navigate.

Interactive branded exhibitor booths.

Viewable and downloadable PDFs, images and videos.




I could quickly find vendor partners on the showroom floor. With one click, we could see product and show specials, then interact with vendors. In the show administrator function, I could see all the customers and interact with them by video or text. The platform allowed me to view the booths customers visited, plus I saw how many guests were on the showroom floor. Orders were visible as they were entered, whether by the customer, the vendor, or me. Overall, the site was easy to use and navigate. We were very impressed with the results of our virtual show.

Operator - Grocery Show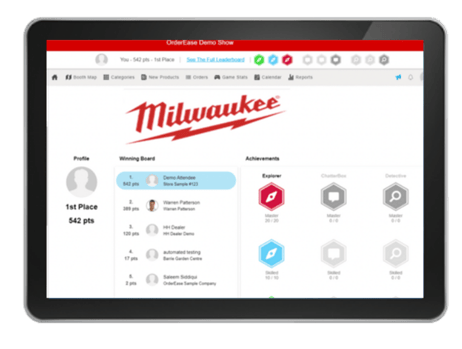 DID YOU KNOW

9 out of 10 users found the platform
easy to use and navigate.
*Based on post-show survey results with attendees and exhibitors
TECHNICAL AND CUSTOMER SUPPORT
Best-in-Class. Always here.
White-glove support.
Breathe easy. Hassle-free from start to finish.
From on-boarding, pre-event set-up, in-show support and post-show
wrap-up, our industry-leading customer experience and technical
development team is with you. Our team will help you plan, prepare,
and launch your event to ensure success.
Project management.

Marketing support.

Step-by-step training.




It was very well done and laid out. Staff was amazing in helping to coordinate the booth and with all of my last-minute changes and questions!

Exhibitor - Optical Show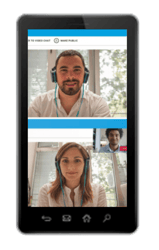 DID YOU KNOW

OrderEase has a 98% positive customer support user satisfaction score.
*Based on post-show survey results with attendees and exhibitors
EVENT PLATFORM OVERVIEW
Easy Set-Up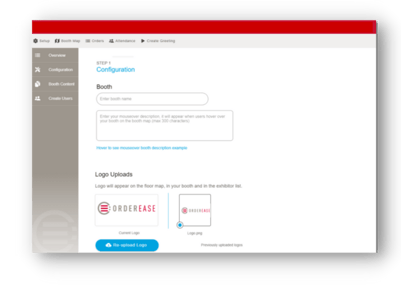 Online exhibitor self-serve and
dedicated support team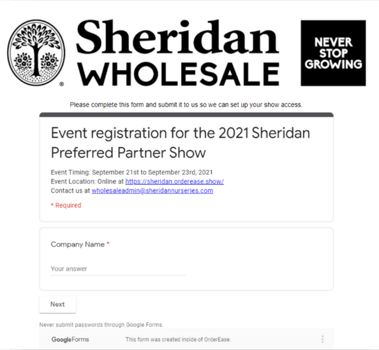 Branded registration and check-in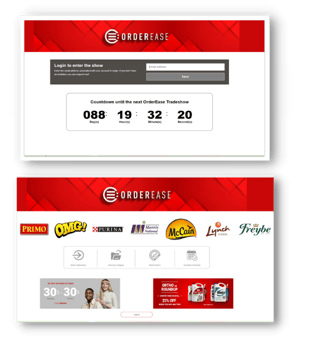 Customized, branded landing and
navigation pages
EVENT PLATFORM OVERVIEW
Intuitive and Easy-To-Use Navigation
EVENT PLATFORM OVERVIEW
Custom Content in Exhibitor Booth
Easy to load, easy to manage.
Communicate key info and value of your
promotions.
Customize images, videos and
documents.

Direct message or chat with video.

Easily find new products or promos.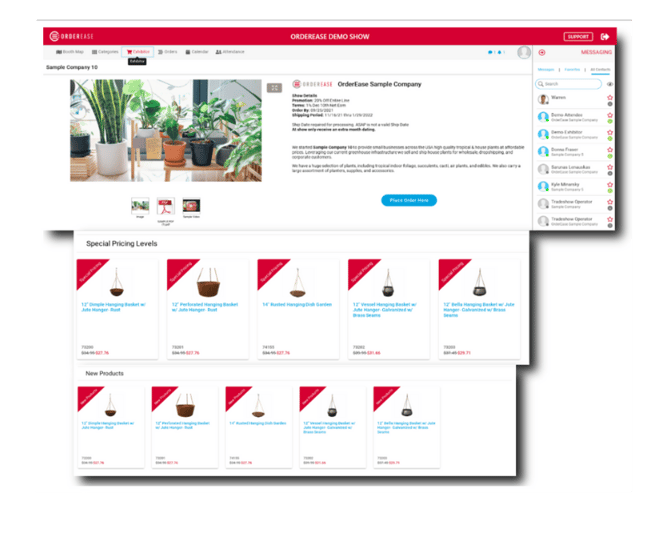 EVENT PLATFORM OVERVIEW
Intricate Pricing and Discounts
EVENT PLATFORM OVERVIEW
Kickstart Conversations with Chat
Engage like never before. Create meaningful conversations via chat or video.
Schedule meetings or DM.

1:1 or group chats or video.

Conference up to 8 people.

Screen share documents.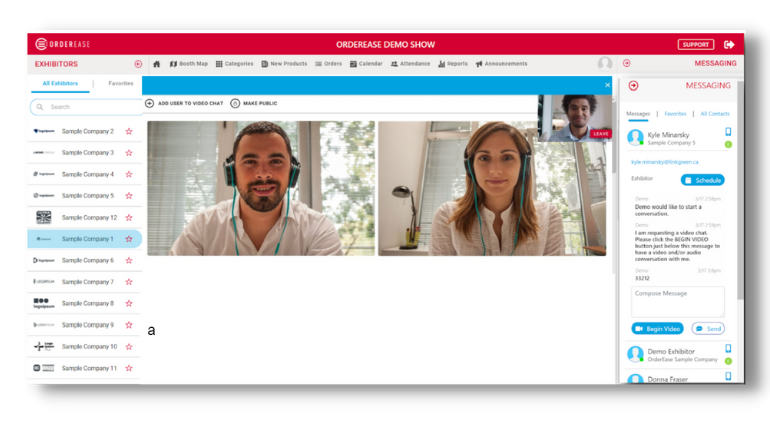 EVENT PLATFORM OVERVIEW
Audience Engagement with Gamification
EVENT PLATFORM OVERVIEW
Lounge and Breakout Rooms
Designed to highlight engaging video conferences. Have open discussions or moderated topics. Set specific access rights for particular groups or open to entire trade show.
Multiple tables.

Max 8 participants per.

Topic specific or open
conversation.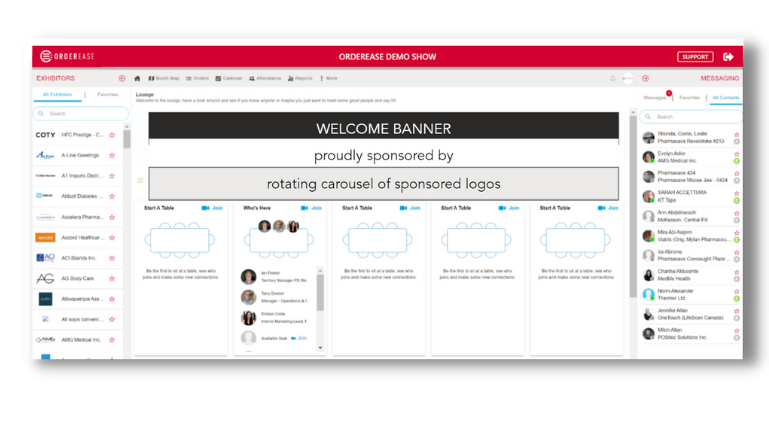 EVENT PLATFORM OVERVIEW
Maximize ROI with Sponsorship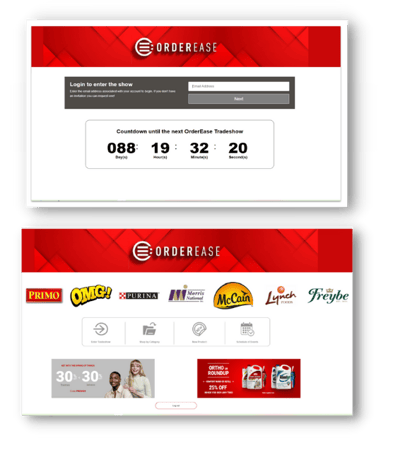 Login and Navigation Page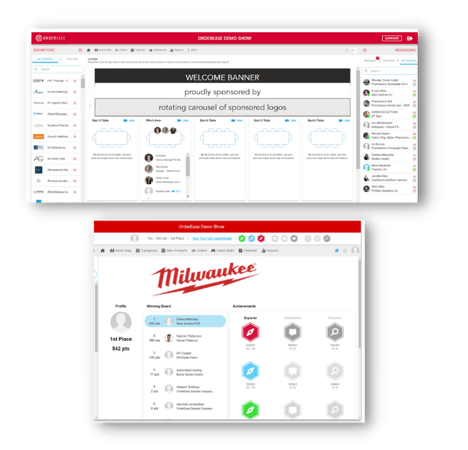 Lounges & Gamification Leaderboard
EVENT PLATFORM OVERVIEW
Hyper-Personalization Metrics to Better Understand Buyer Behavior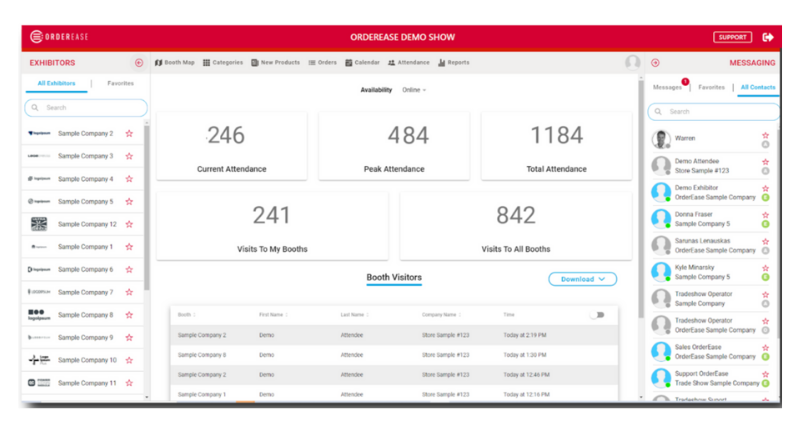 Real-time metrics dashboard tracks logins, attendance rates and user activity. Easily compare virtual event data with legacy (in-person) and hybrid events for the full holistic picture.
Export raw data for deeper
individual journey analysis.
Exhibitors see booth
performance by tracking booth
visits, clicks, content downloads
and chat activity.

Maximize your sponsorship ROI.
EVENT PLATFORM OVERVIEW
Eliminate Data Silos. See the Complete Picture.
Capture and combine sales data, event engagement and activity, along with post-show survey feedback, to build a more complete profile of your audience.
Integrate with existing marketing
and sales systems.
Smarter and faster post-show
follow-up.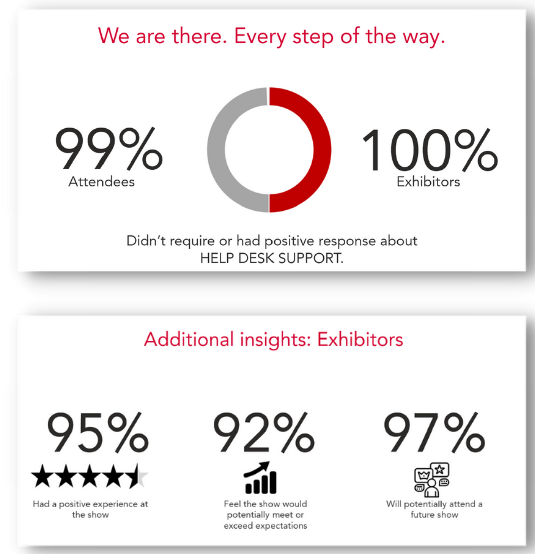 Still Not Convinced?
OrderEase order management technology improves sales operations at in-person, virtual and hybrid events. Further elevate the power of your show by combining OrderEase with our a versatile, fully-loaded event platform.
The benefits will power your ROI.

OrderEase is MORE than
Just a Trade Show Platform
It's true. Just imagine taking the level of sales visibility and ease of taking orders, and putting that into your day-to-day business operations. This is what the trade show platform is built on. Our order management solution can be integrated into your existing business systems and create an ecosystem of order data flow from your suppliers to your independent retailers.

Industry Insights
View some of our recently published articles.