OrderEase: All-In-One Supply Chain Integration Solution
Each product is powerful on it's own...BUT it's magic when you use them together!
Integrated Workflows for EDI, API, Drop Ship, eCommerce, Marketplaces
Workflows for

order lifecycle management

to compliment and enhance the capabilities of your existing internal systems.
From Order to Invoice. OrderEase builds workflows connecting multiple sales channels to communicate with your fulfillment systems.
A single integration software to connect all of your endpoints.
User interface available for functionality not supported by your internal solutions.
Automated triggers available based on your workflow rules.
Easy business scalability by leveraging a single integration platform.
It just doesn't make sense to use another solution!
Explore our integrated sales channel options.
EDI

Marketplaces

Drop Ship

eCommerce
Modern EDI...we're breaking down the barriers.
Most EDI integration solutions are just that, an EDI integration solution. They some times have the ability to integrate directly into your ERP, but that doesn't solve the ability to get non-EDI orders into your ERP or accounting system.
We have also changed the traditional EDI pricing models of pricing per document or kilocharacter into pricing per order workflow.
With the ability to hold inventory, pricing, shipping information, and invoice information, OrderEase is a powerful EDI compliance and integration solution.
Sell on more online channels without more administrative work.
When OrderEase is your central hub of data, each new connection to a marketplace or online sales channel is quick and easy. Depending on the marketplace or sales channel capabilities to receive data, OrderEase can push and maintain the data within each marketplace.
Segregate and offer different products at different price points to each marketplace, and even control inventory available to each channel within your OrderEase account.
Configure order workflows to auto-trigger fulfillment points, which minimizes your need for manual intervention throughout the lifecycle of your orders.
Offering Drop Ship services to your wholesale customers is now a breeze!
Before using OrderEase, a significant number of suppliers said setting up and managing a drop ship program was too much effort to be worthwhile.
With easy configurations within OrderEase, any wholesale product can be converted into a drop ship offering which can then be shared with retail sellers to push to their online stores. As each drop ship order is placed, the order is instantly sent to the supplier for fulfillment.
Direct to your webstore or to your retailers webstore.
With website eCommerce integrations such as Shopify and WooCommerce, you can use the data within OrderEase to sell direct to consumer on your web store. Additionally, your wholesale buyers can leverage your product data from their OrderEase account and push into their own web store.
With this integrated connection, you can maintain brand compliance with product images, allow inventory visibility, and manage pricing changes real-time.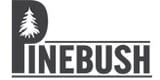 ORDER
Automate orders from multiple sales channels into a single channel
Workflow triggers pull orders from your integrated sales channels into OrderEase then based on workflow rules, hold the order or push into your ERP for processing.
Additional workflow rules can be created for synchronization with your integrated logistics software. Multi-channel communication creates highly automated order workflow processes.
By using a single integration technology for all of your sales channels your workflows can be consistent which minimizes staff training and reduces resource requirements for channel management.
SHIPMENT
Send order data and receive shipment details with an integrated connection
Connected solutions create process efficiencies and reduce errors. Automate label generation and ASN's to your trading partners.
INVOICE
Integrated invoicing provides customers with a single location to access their account information
Along with a user interface to view invoices generated from an integrated accounting system, workflow automations are able to push 810's via EDI to your trading partners.
Designed to Support Brands, Distributors, and Agents
With our integrative approach and robust cross-referencing capabilities, we can digitally connect the dots for you on the buy side and sell side of your supply chain ecosystem.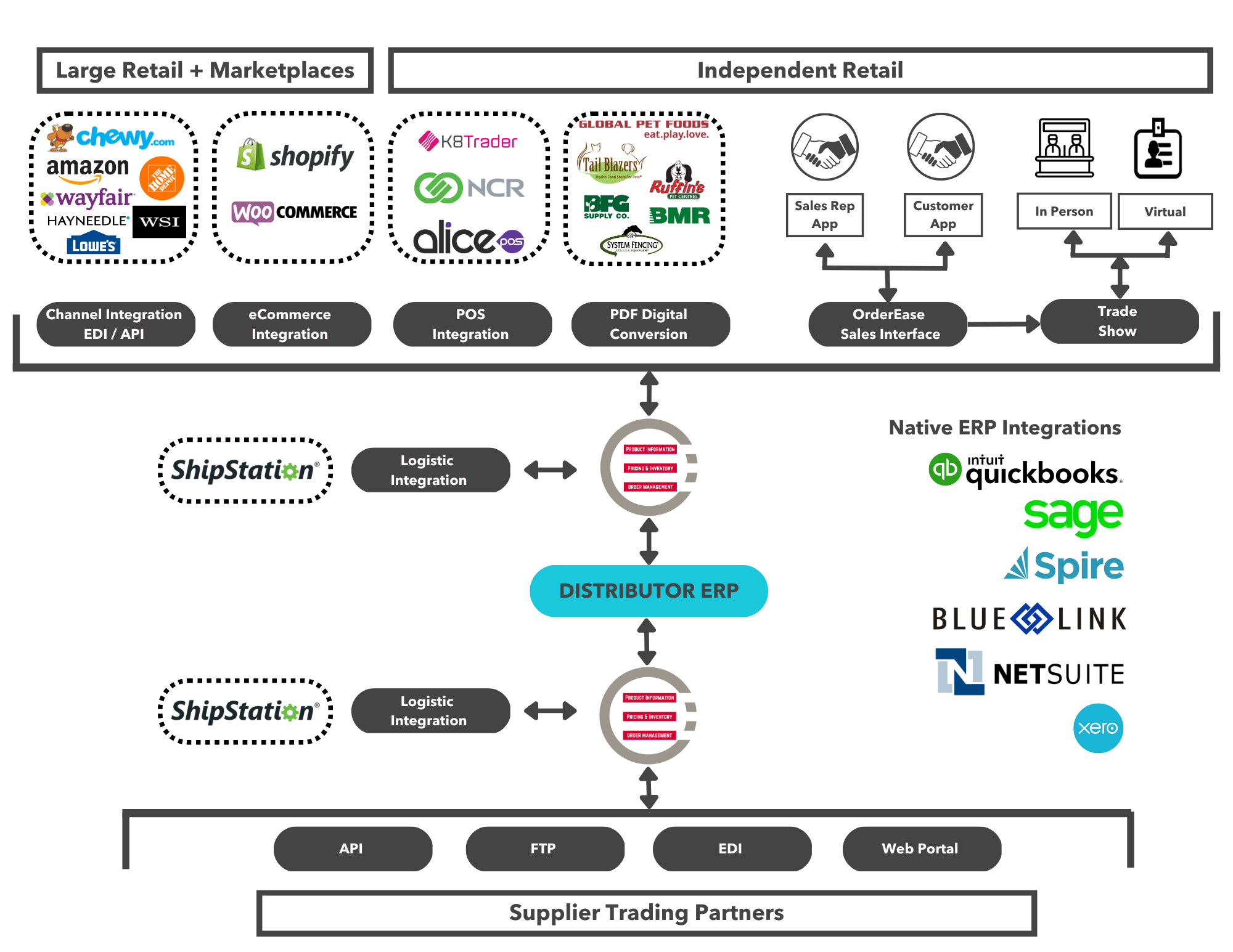 We Play Well With Others
Our ready-to-integrate solution can exchange data with any software.
Built For Your Wholesale Business
It's Easy to Get Started!
For many businesses we can import your product catalog and begin submitting test orders within minutes. Call us today and we can walk through the setup together.